The Yant team celebrated "Yant Day" at a team picnic a few weeks ago. It was a wonderful opportunity to gather as a team and celebrate summer.
We took some time to honor two special employees – Wally and Alan were recognized for more than 30 years of "Service & Dedication" to Yant Equipment.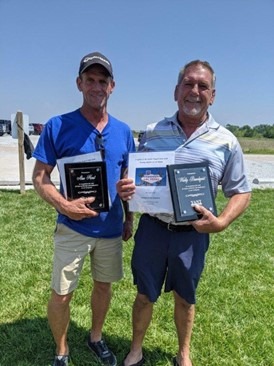 The phrase "Service & Dedication" has so many meanings in our business. As a company, we are dedicated to providing the highest quality service to each of our customers. Wally and Alan have always been great resources to everyone on the Yant team. They share their experience and knowledge of all types of Petroleum Equipment and Fuel Systems with our customers and each person on the Yant team.
Wally and Alan's dedication to Yant Equipment is demonstrated by more than 3 decades of tried-and-true commitment to all our Agricultural, Petroleum, and Industrial partners.
"Their degree of loyalty is a great example of our core values at Yant Equipment," said Jared Baker, president of Yant Equipment. "They are the foundation of our family owned and operated petroleum business."
We are proud to honor Wally and Alan for their "Service & Dedication". Yant Equipment provides honest and reliable fueling solutions, and they both have provided Yant Equipment customers faithfully and for more than 30 years.